Metcar is proud to announce that we are members of the Fluid Sealing Association (FSU) as of October 2019.
The team attended our first event at a joint meeting with the Hydraulic Institute (HI) this fall, where Metcar exhibited at a tabletop showcase featuring our proprietary carbon graphite materials, parts, and product examples for the fluid sealing and pumping industry.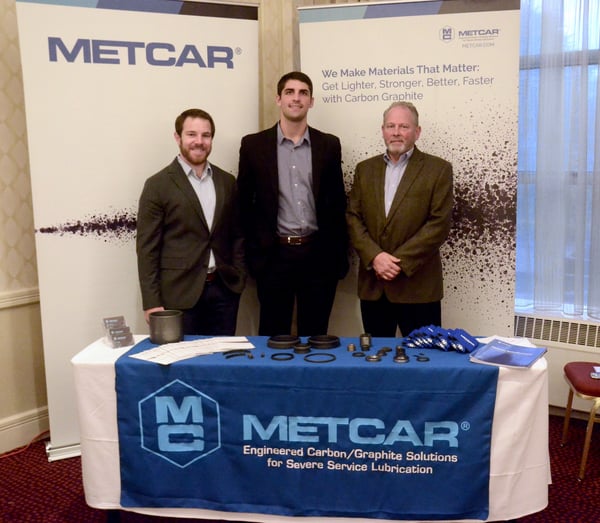 LR: Chris DiPaolo, Sales and Marketing Manager | Keith Hoge, Product Manager | Matthew Brennan, President and CEO
Among the leaders in the international pumping and sealing industry who attended, we saw a number of familiar faces and were happy to become acquainted with some new ones. We look forward to staying in touch with all the wonderful people involved with the FSA and HI!
Highlights & What's in the Pipeline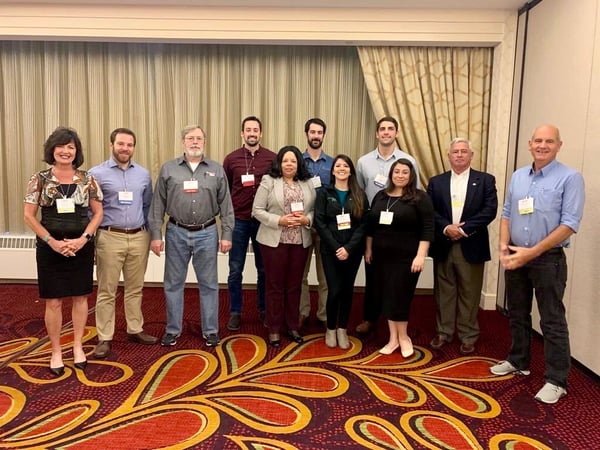 The FSA is comprised of members from global organizations getting together to share the latest technologies, information, and research from within the industry.
The main topics discussed at the FSA meeting included:
How to create the best educational content to train engineers
How to better promote the FSA and make their highly regarded educational materials easily available to organizations looking to optimize their production standards
Achieving these goals will in turn promote the increased standards in quality, safety, and sustainability across the board. Metcar will be an active FSA member by serving on the digital marketing subcommittee to help promote the organization and their informational materials.
With a focus on education, both the Fluid Sealing Association and the Hydraulic Institute regularly publish updated educational resources such as whitepapers, case studies, and guides. Currently in the works, Metcar is partnering with the Hydraulic Institute on a mechanical seal guidebook covering how to best use carbon in mechanical seals. We will also contribute educational articles in Sealing Sense (in collaboration with Pumps and Systems) in 2020.
An important initiative for the association is striving to update old standards and set new guidelines where needed to help every fluid sealing company meet the tightening regulations, in particular those standards that have a direct impact on emissions and environmental conditions.
Metcar is proud to partner with an organization that is making efforts to promote more sustainable manufacturing practices and educate industrial manufacturing designers on topics from improving efficiency to lowering emissions.
One of the presentations at the meeting covered the next addition of API 682—the American Petroleum Institute standard for sealing and controlling emissions on all pipeline seals—which will affect the next generation of pipelines.
Another presentation detailed the new regulations on the horizon for asbestos carcinogens related to PFAS. Promoting awareness around why change is necessary in certain sealing and pumping applications is critical to help increase safe water supply processing and sealing practices.
The educational seminars exposed us to a variety of other helpful and interesting topics. To name a few: optimizing gasket design, preventing water hammer damage, personal productivity optimization (based on the results of our professional personality assessments, we're Planners), and a presentation by the chief engineer for the Mars 2020 Rover project.
One of the most exciting aspects of becoming more involved with FSA is the opportunity to interact with other members face to face. Engaging with industry leaders is a motivational experience that allows us to stay up to date on our respective challenges and proposed solutions. We're grateful to share ideas with these industry game changers.
About the Fluid Sealing Association
The Fluid Sealing Association is an international trade association dedicated to technical training and education. Their goal is to help members achieve the highest possible standards in fluid sealing, promote safe and clean environments, and to stay at the forefront of fluid sealing innovation. They aim to share important information that impacts change to economic, environmental, and social factors worldwide.
Metcar shares FSA's mission and philosophy, and looks forward to participating in the advancement of an industry that makes innovation in so many other sectors possible. Change is inevitable. Being a part of the solution to industry—and global—challenges is the difference between surviving and thriving together for years to come.
---
Interested in working with Metcar? Our engineers are available to work with you on a solution to your process needs.