Large-scale food production often requires the use of highly engineered conveyors with many specialized components, particularly when heat is involved in the production process.
From baked goods to pizzas, ensuring that heat is applied accurately and consistently during the cooking and production process is critical. However, the sanitation regulations and high temperatures that are often required of these processes pose a few challenges when designing food-safe conveyor equipment.
Carbon graphite bearings offer a convenient solution to many of these challenges – this is the reason many food conveyor manufacturers are turning to carbon graphite as they design the next generation of conveyors.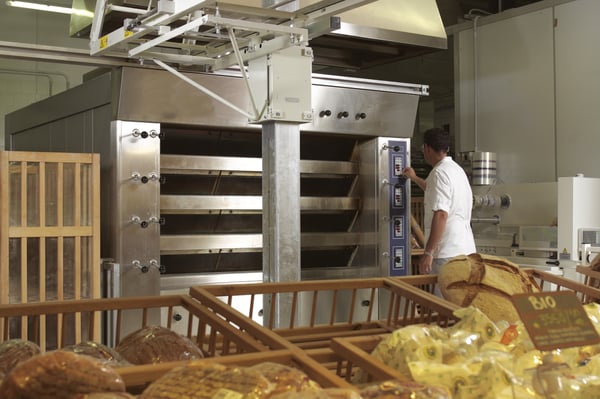 Many bakeries rely on highly efficient and rigorously engineered conveyor ovens.
Historically, many food conveyors have used food-grade grease to keep their bearings properly lubricated. Although this grease is able to keep rollers in the conveyor from seizing, there are a number of issues associated with using grease lubricants:
Food-grade grease is expensive and it needs to be replaced on an ongoing basis
Lube systems that apply this grease to the bearings tend to be expensive and they also require maintenance
Although the grease is food-safe, it can be messy and unsightly in application
As more and more conveyor oven manufacturers are looking to optimize performance and cut costs, they are quickly learning that carbon graphite often poses the perfect solution. This self-lubricating material completely eliminates the need to use food-grade grease and allows conveyor oven manufacturers to avoid the three problems listed above.
As carbon graphite manufacturers continue to improve on their material grades, food conveyor manufacturers have been able to accomplish results that were previously unattainable.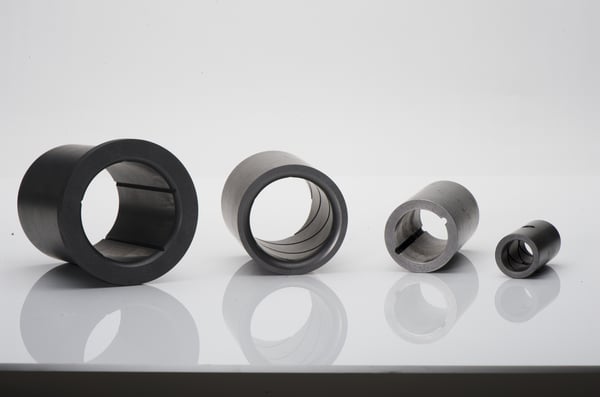 Carbon graphite bearings are highly customizable and come in a variety of shapes and sizes.
Rigorously Tested and Proven to be Food Safe
Multiple carbon graphite grades have been deemed GRAS (Generally Recognized as Safe) by the FDA for use in food handling equipment. Impervious grades in particular have gotten this approval, since these grades have virtually no porosity in which bacteria can grow. This also means that the bearing surfaces can be easily cleaned if necessary. In addition to the GRAS rating, certain carbon graphite grades have approvals for the following:
USP Class VI Required for materials employed as drug containers and prosthetic devices such as heart valves, dental implants, or implant tubing
NSF-51/61 Standard which contains requirements for all types of materials used in the manufacture of commercial food equipment
WRAS (Water Regulations Advisory Scheme) Regulations aimed at preventing contamination of public water supplies in the United Kingdom
Maintenance-Free and Long-Lasting
Unlike lubricated bearing assemblies, carbon graphite bearings do not need constant oil or grease lubrication to be added and replaced.
Through improved manufacturing methods and processes, the material properties of mechanical carbon graphite have been optimized over the course of decades to ensure a long working life. Under normal loads and speeds, these bearings can last many years without maintenance before they need to be replaced.
As an added benefit, bearing users are often able to double the life of their bearings by simply rotating the carbon graphite bearing by 180 degrees, since the load on the bearing (and thus, the wear) is only in one direction.
Higher Operating Temperatures
Food oven manufacturers are constantly trying to achieve higher and higher temperatures. This allows them to decrease cook times and ultimately, increase throughput. However, it is often the case that the operating temperature is limited by the grease used in their ovens, since grease tends to degrade over time at high heat.
Carbon graphite bearings have been successfully used in ovens that run at temperatures greater than 1,000°F. This has allowed oven manufacturers to drive up operating temperatures to values that were previously thought to be unattainable.
Despite the impressive temperature resistance that carbon graphite grades currently have, the manufacturers of these materials are constantly trying to improve temperature capabilities and devote considerable R&D efforts to this effect.
The Future of Carbon Graphite
Across essentially all industries in which mechanical carbon graphite is used, end users are looking for the same things: higher temperature capabilities, better wear resistance, and lower coefficients of friction.
Whether you are a jet engine manufacturer, a pump builder, or a bakery equipment designer, the material properties mentioned above are extremely desirable.
Carbon graphite manufacturers have received this message loud and clear. A sizable portion of the material development efforts at these manufacturers' facilities is dedicated to improving these very properties. Be sure to get in contact with a carbon graphite manufacturer directly if you have an application that you believe could benefit from this versatile material.
---
Questions about a specific application? Get in touch to speak with an engineer about your process.