Catch Metcar in the May 2021 issue of Pumps & Systems to learn about how carbon graphite can be a solution in food and pharmaceutical applications.
---
Many of us are familiar with using self-lubricating carbon graphite mechanical components for extreme applications in the oil and gas or aerospace industries. However, carbon graphite is also a suitable solution in the food and pharmaceutical industries.
During the manufacturing of carbon graphite parts, porosity is created. This porosity can be potentially hazardous in food and pharmaceutical applications if it is not completely filled. When the porosity of material grades is completely filled, the part is considered to be impervious to liquids. As such, there is no available porosity for bacteria to enter and grow. Impervious material grades are considered GRAS (Generally Recognized as Safe) by the FDA (Food and Drug Administration) and therefore, are suitable to be used in food and pharmaceutical applications, which are highly regulated for human safety.
Metcar offers several resin, carbon, copper, bronze, nickel chrome, and oxidation inhibitor impregnated carbon graphite grades, that are impervious to liquids and considered GRAS as seen in the table below.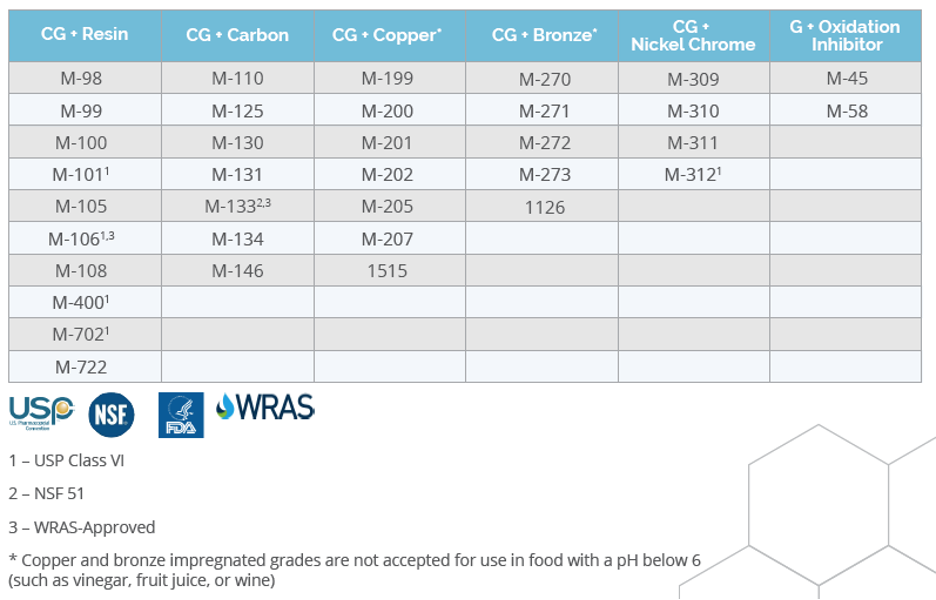 Select material grades also have additional approvals such as USP Class VI, NSF-51, and WRAS, which are described below:
USP Class VI – U.S. Pharmacopeial Convention

Certification of a material to be used within medical devices.
USP Class VI has the most stringent testing requirements for medical applications
To pass, the material needs to show low levels of toxicity during testing
Approval ensures a high-quality level of the product and a better acceptance chance with the FDA and USDA (United States Department of Agriculture)
NSF-51 – National Sanitation Foundation

Standard for plastic material and components used in food equipment and food contact applications.
Covers materials and components used in manufacturing of food such as sealants, gaskets, valve, etc.
Testing is based on US FDA regulations
M-133 is NSF-51 certified
WRAS – Water Regulations Advisory Scheme

WRAS works with water companies in the UK to protect public health with water fittings regulations and byelaws to ensure the water is safe for drinking.
M-106 and M-133 have passed testing for WRAS approval
With these approvals, self-lubricating carbon graphite mechanical components can be used in food handling conveyors and ovens, vacuum pumps, mixer scraper blades, and much more.
Read more about how you can use carbon graphite in the food and pharmaceutical industries for high temperature, submerged, and dry applications in Metcar's Pumps & Systems article "The Benefits of Using Carbon/Graphite in Food & Pharmaceutical Applications" in the May 2021 issue of Pumps & Systems.
---
For more information about carbon graphite products for your application, contact an engineer today.